PUBLISHED MAY 2013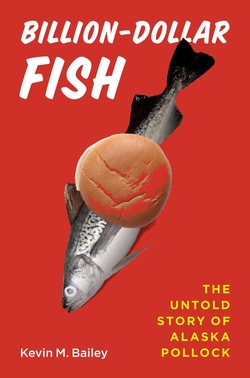 ABOUT THE BOOK
The Alaska pollock fishery developed with explosive force, rising from obscurity about 40 years ago to become the world's largest food fishery within a decade. The fisherman's invasion of the arctic seas to catch the fish with snow white meat resembled a gold rush. At the time, knowledge of the resource lagged far behind the process of exploitation, depletion and discovery of new stocks. Scientists could not keep up with an industry on steroids. By the late 1980s, ships to fish for pollock were being built at a furious pace. Empires were created and fortunes were made and lost. In some regions, stocks were overfished and depleted.
Many people witnessed the pollock story from the beginning, but few contributed to making the history. I was a biologist trying to understand changes in the population, not a fisherman, politician or a manager, all of whom influence the course of events. Looking back, I realize that as an observer on the sidelines, I had stumbled into the shadow of the world's largest food fishery and along the way witnessed one of the largest fisheries collapses in history, that of the "Donut hole" stock of pollock. Since my own career spans much of the development of the fishery, I became motivated to discover what happened during the time I was busily engaged in science.
My intent in telling the pollock story is not only to describe what happened, but why things happened. I learned that both opportunity and personalities drive the story of the fishery, give it life and make it interesting. Without exception, I appreciate and respect the many people I talked with during the research for this book. I learned something from each. Many of the people involved in the early years of the U.S. fishery are still alive, and I was fortunate to interview some of them.
order book on Amazon.com
book website at University of Chicago Press
see review in Choice
---